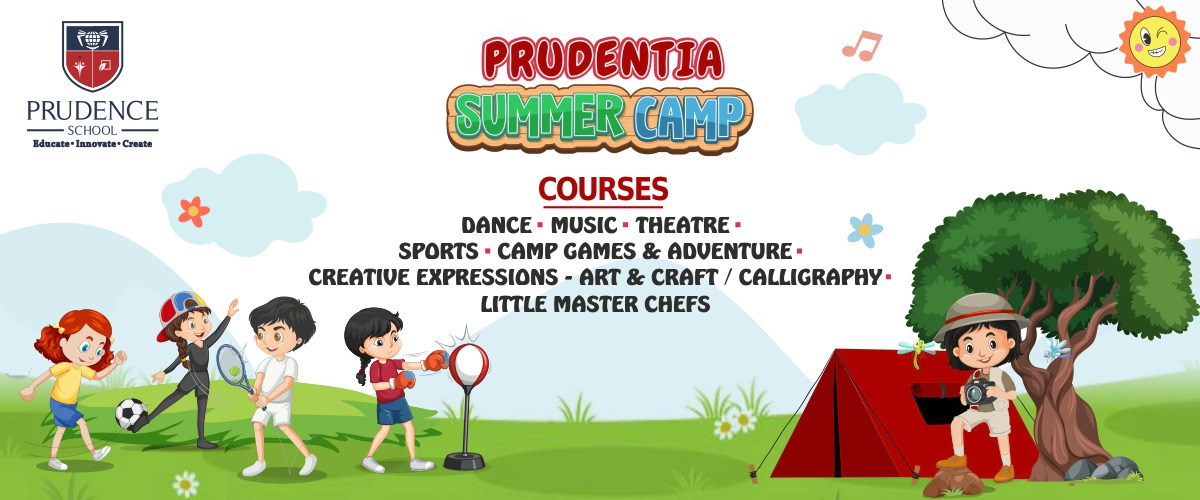 Collaboration . Communication . Creativity
Our Summer Courses teach more than you think.
Give your child the best summer experience with exciting and unique skill based courses for ages 2- 12 years.

Prudentia- Summer Camp

is the perfect balance of learning, engagement and fun. It is a chance for children to experiment, be creative, and build confidence in an enjoyable learning environment.
HIGHLIGHTS
Our Summer Camp activities will emphasise on developing a love for learning, being resilient, reconnecting with nature and learning social skills.
Students will engage in a variety of Hands-on workshops for a unique learning experience.
Yoga/ Zumba sessions for Mothers with an aim to promote a healthy lifestyle.
COURSES OFFERED
Prudence School - Ashok Vihar
Age Group- 3-12 years
Courses:-
Creative Expressions:- Drawing and Colouring, Art-Craft and DIY, Calligraphy (G4-G8)
Sports:- Skating, Basket Ball, Cricket, Badminton
Performing Arts:- Western Dance, Classical Dance (G4-G8), Musical Instrumental (G4-G8), Guitar, Keyboard, Drums, Theatre, Food Mania (Flameless Cooking) Time Duration:- 9:00 AM - 12:30 PM Date:- 20th May - 10th June Prudence School - Sector 22, Dwarka
Age Group- 3-12 years Courses:-Theatre, Dance, Music, Art and Craft, Sports, Fun with Science, Master Chef Time Duration:- 9:00 AM - 12:00 PM Date:- 22nd May - 10th June Prudence School - Sector 16B, Dwarka
Age Group- 3-12 years Courses:- Theatre, Dance, Music, Art and Craft, Sports, Master Chef Time Duration:- 9:00 AM - 12:30 PM Date:- 20th May - 10th June Prudence School - Pitampura
Age Group- 2-9 years Courses:- Physical Development, Creative Expressions, Role Play, Dance, Music, Taekwondo Time Duration:- 9:00 AM - 11:30 AM Date:- 20th May - 10th June Prudence Junior - Janakpuri
Age Group- 2-7 years Courses:- Creative Expressions, Little Master Chef, Dance, Camp Games, Writing and Calligraphy, Taekwondo Time Duration:- 9:00 AM - 11:30 AM Date:- 20th May - 10th June Prudence Junior - Ashok Vihar
Age Group- 2-5 years Courses:- Creative Expressions, Dance Time Duration:- 10:30 AM - 12:30 PM Date:- 20th May - 10th June Prudence Junior - Sector-8, Dwarka
Age Group- 2-5 years Courses:- Dance and Theatre, Creative Expressions, Flameless Cooking Time Duration:- 9:00 AM - 11:30 AM Date:- 20th May - 10th June